Name: Herdsworth
Species: Unicorn
Gender: Stallion
Age: 35
Occupation: Researcher/ Canterlot Royal Librarian
Virtue: Diligence
Special Talent: Extremely Good Memory
Minor Talents: research (finding, gathering and organizing information)
=Appearance=
Height: 4' 9"
Coat Color: dark blue
Mane/Tail Color: yellow
Eye color: light blue
Cutie Mark: stack of books
Picture: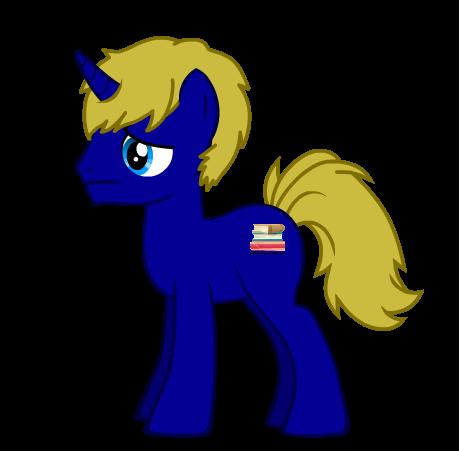 =Bio=
Personality: Herdsworth is not what you would a call a very social pony, but he sure knows a lot about Equestria. That's because he is a tireless researcher. He knows of the history of Equestria from its inception to present day events. As such, he was able to get a position in the Canterlot Royal Library before the great war. He can also find any information a patron may require, no matter what the topic. Not many ponies come to the library these days however. Unless it's in secret as the griffons have banned access to the library. These days, any access to the library must be done in secret. Therefore, Herdsworth prefers to go there alone.
He has an extremely good memory and can recall most information off the top of his head. This makes him an asset in battle as he can generally assess an enemy's attacks and even its weaknesses. While Herdsworth can hold his own in battle, he is best in a group. He can only take a moderate amount of damage, but has a fairly good evasion rate. And of course his crit rate is very high.
History: Herdsworth is an extremely shy pony and takes a while to trust others. Once he does though, he will got to the mat for them. He is happy to share his knowledge with those he trusts, but is tight-lipped around strangers.
Herdsworth has a younger half-sister whom he has never met. She was put up for adoption in an orphanage in Manehattan soon after her mother died and her father went missing. They are related by mother. Herdsworth hopes to one day find out the identity of his younger sister. Herdsworth's father died when Herdsworth was quite young in a heavy cart accident. Afterwards, his mother went to Manehattan while Herdsworth stayed behind in Canterlot to work in the Royal Library. It was in Manehattan that Herdsworth's mother met the stallion who would become the father of Herdsworth's half-sister. Herdsworth's mother died from complications during her daughter's birth and his half-sister's father went missing soon after during a mission in Stalliongrad.
Herdsworth is a lover of animals and keeps several dogs and cats as company. They sleep with him at night and are constant companions during his research. They help him to relax and concentrate. He keeps them inside the confines of his house, lest they become snacks for some hungry griffon. He formerly resided in Canterlot and is fascinated by the Mane Six, particularly Twilight Sparkle. He hopes to one day meet them, but fears he may never get the chance.
Last edited by Herdsworth on Wed Oct 24, 2012 12:40 am; edited 4 times in total
Newbie





Posts

: 3


Join date

: 2012-10-21


Location

: Austin, TX

Character sheet
Alignment: neutral, leaning rebellion
Profession: librarian/ researcher
Age: 35


I'd like to point out, that I'd love to meet Twilight as well. That is all.
Scootaloo





Posts

: 797


Join date

: 2012-10-21


Location

: Trottingham

Character sheet
Alignment: Rebel
Profession: Smith
Age: 32


Zuberi wrote:Okay, two things; one isn't a problem at all, the other you may not like. One, your height is at 5'1". The max height for a pony is 5'. Please edit this, shouldn't be a big edit. :3
This part you may not like... You're not allowed to know cannon characters. So I'm sorry, but these 'rumors' cannot exist because your character cannot be close enough to Blueblood or anypony from the show that others can attempt to compare them. Saying you want to meet Twilight, however, is completely acceptable. Just dunno if you'll get the chance, is all.. :c Sorry. Oh, and try to get a picture. :3

Make these edits and I'll look it over again. Thank you! And sorry. :/
No worries. I pretty much just used the Herdsworth I use in my fan fiction. I'll give him an unknown half-sister who is not from the show. That way there can be a tearful reunion at some point. :) I just gotta put the cutie mark on Herdsworth and I'll be set. Height will be changed as well.
Newbie





Posts

: 3


Join date

: 2012-10-21


Location

: Austin, TX

Character sheet
Alignment: neutral, leaning rebellion
Profession: librarian/ researcher
Age: 35



---
Permissions in this forum:
You
cannot
reply to topics in this forum