=Information=
Name: Ida Fjölnir
Species: Griffon
Gender: Female
Age:92( 46 )
Occupation: Scientist, researching artifacts
Virtue: Cooperation
Special Talent: produces medicine out of plants
Minor Talents: smart mind, stays calm (if she takes her medicine)
Alignment: Griffons
House: Aeryie
=Appearance=
Height: 5'3"
Coat Color: brown / rust-brown
Tail Color: brown
Eye color: purple
Picture: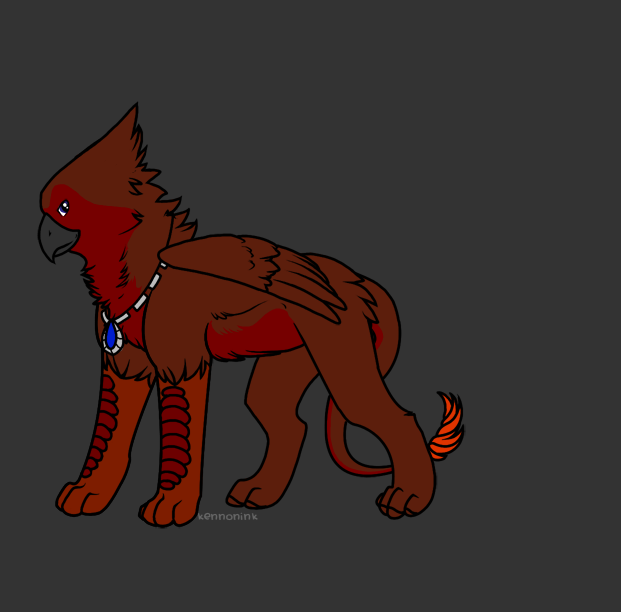 =Bio=
Personality:
Ida is the born scientists. She's a very open minded griffon, who respects other opinions and tolerates other species. Her mantra is "You never stop learning" and therefore she would even allow a pony to teach her something new.
Normally she's a very calm and rational griffon, but if she doesn't take her medicine she can get panic attacks very quickly. Only a small room or a stranger talking to her can cause such an attack. First symptoms are a bobbing leg or a nervously walking up and down. If she doesn't get her medicine in the next 30 minutes the attack will take over her whole body and she can't control it anymore. Now she can start to rage or fall into a depression, it depends on the situation.
History:
Ida was born in Aeryie as a daughter of two well-known scientists. Her father was brilliant geologist, who was the leader of an research group, which developed an easier way to bore for oil.
But Ida was never really interested in the research field of her father. After she finished school as one of the best griffons she started to work with her mother. Her mother was a biologist, who explored the flora and how to make medicine out of it. After her mother passed away Ida took over her laboratory. This was the time where her first panic attacks appeared, because she has to carry her mother's heritage on her shoulders. Ida had to lead a whole laboratory and she was responsible for it, but she learned enough from her mother to produce her own anti-stress medicine. After several months she was addicted to it and has to take it now every 5 hours to prevent any panic attacks.
The war itself was a blessing for her, because now the military invested more money into her research of medicine made out of plants. Ida is still proud of her work, because she knows it saved thousands of griffon lives. During the war two suited griffons from the army visited her father with a briefcase full of stones. They said the unicorns use these stones to gain more power and he should find out how the griffons could use this power. Her father rejected this job, because he wanted to enjoy his retirement. So they contacted Ida for the job and she agreed, but she realizes that this stones are only stones without unicorn magic. After the war ended the military deployed her in Manehattan and said they were still interested in these artifacts. Ida pointed out that she'll need help from an unicorn to research these artifacts and the military gave her a unicorn from the labor camps. Ida quickly noticed that Stellar Light has a real talent for magic, but lack of ambition. The first year was really hard. Stellar refused to work for a griffon, but that slowly changed as Ida started to treat her like a real colleague. Ida even shares her wage with Stellar. After Stellar started to work for her, Ida taught her how to work like a scientist. It was a rocky road, but in the end they are a quiet good team and respect each other. Ida even allows Stellar to walk around freely and Stellar never tried to escape, because she knows it's better to have such a good work environment than to work in a labor camp.
Timeline:
28.Oct., afternoon
A Stellar Guide
(Stellar)
12.Nov., evening
...of Ponies and Griffons
29.Oct, afternoon
You have a deal
(Stellar)
30.Oct, afternoon
Confrontation
(Stellar)
12.Nov,Afternoon
Casual cafe conversation
20.Nov., afternoon
A new offer
(Stellar)
Last edited by Ida Fjölnir on Mon Mar 18, 2013 3:51 pm; edited 4 times in total
???





Posts

: 109


Join date

: 2012-12-26



I like a botanist holistic scientist, good idea. I have a question, is Stellar an alt, NPC, or other character. Let me know and this should be completely alright.
Trixie





Posts

: 391


Join date

: 2012-10-24

Character sheet
Alignment: Loyalist
Profession: Warrior
Age: 29


Stellar is a NPC assistant
Last edited by Ida Fjölnir on Thu Dec 27, 2012 3:10 pm; edited 1 time in total
???





Posts

: 109


Join date

: 2012-12-26



Trixie





Posts

: 391


Join date

: 2012-10-24

Character sheet
Alignment: Loyalist
Profession: Warrior
Age: 29




Similar topics
---
Permissions in this forum:
You
cannot
reply to topics in this forum