=Information=
Name: Kunnia
Species:Unicorn
Gender:Female
Age:16
Occupation: Helps at Gray's farm
Virtue:Honor
Special Talent: Deadly precision (With ranged weapons via magic)
Minor Talents: Fast and agile; can play accordion
=Appearance=
Height: 4'1"
Coat Color:Blue
Mane/Tail Color:Blonde
Eye color:Light Magenta
Cutie/Glyph Mark: A target
Picture: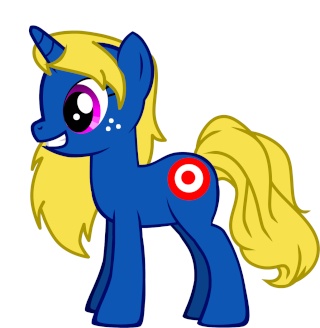 =Bio=
Personality:
Kunnia is a very open minded pony. On her trip to Manehattan she met many ponies and made a lot of friends. Her mother always said, "A single branch is weak, but a bundle is indestructible." And with this thought in her mind she would like to join the rebellion, because alone she can't do anything.
Normally it is tradition in her village that the sons got trained by their fathers in fighting and mothers taught their daughters how to be a good wife, but since the griffons have occupied Equestria, her father thought it would be better to train her in fighting.
She'll need the fighting skills more often than knitting
, he has always said to her mother. He also taught her the most important character traits of a good fighter: Honor and pride. "Fight fair and honorably and the victory will be on your side." He always said to her.
History:
Kunnia was born in the far north of Equestria as a daughter of a smith and a teacher. Before the war started the village was a small and sleepy place. At the beginning of the war the village has fallen into the hands of the griffons very fast, because there were only few pony soldiers so far in the north and they had other priorities.
The village wasn't even interesting for the griffons and, therefore, they had no soldiers stationed there; instead they only sent patrols on a regular basis, which terrorized the little village.
Every evening her parents have told stories of brave ponies, who still fight against the griffons in the south. Motivated by these stories, Kunnia has decided that she'll go south after her 16th birthday and find those ponies. Of course their parents tried to stop her, but her decision was certain. She would go.
For her 16th birthday her father had a surprise for her. Two double bladed battle-axes made out of the best iron they had in the north. On the blades and the shaft are old symbols, which should protect her and remind her where she's from. Her mother has enchanted both axes for her. They cannot rust and only Kunnia is able to control them with her magic.
Two days later she stood in front the gate of the village with her cart and said goodbye to her family and friends. It will be a long and hard trip...
Equipment: Two axes she can throw. "Honor" and "Glory", only she can control them with her magic, but everyone else can grab them.
Last edited by Kunnia on Sun Oct 28, 2012 2:42 pm; edited 7 times in total
Newbie





Posts

: 22


Join date

: 2012-10-27

Character sheet
Alignment: Rebel
Profession: Grays assistant
Age: 16


So, its like Kunai, but spelled Kunnia?
Braeburn





Posts

: 657


Join date

: 2012-10-24


Location

: Manehatten Griffin Headquarters

Character sheet
Alignment: Griffin Kingdom
Profession: Intelligence Officer
Age: 39


Kunnia. It's finnish for honor. I think it fits for a pony from the north.
Pie





Posts

: 244


Join date

: 2012-10-21


Location

: Germany

Character sheet
Alignment: Rebel
Profession: Farmer
Age: 55


can you add just a little more to her personality and history. orefferably have them both two paragraphs each in total.
Newbie





Posts

: 17


Join date

: 2012-10-20



Scootaloo





Posts

: 797


Join date

: 2012-10-21


Location

: Trottingham

Character sheet
Alignment: Rebel
Profession: Smith
Age: 32



---
Permissions in this forum:
You
cannot
reply to topics in this forum